What Makes Ukraine One of the Best Outsourcing Hubs?
Over the years, Ukraine has gained a reputation as a reliable and trustworthy IT outsourcing destination. There are several reasons for this:
First of all, Ukraine is a nearshore destination for IT outsourcing. Ukraine operates in GMT+2 time zone, which mainly overlaps with the European working hours. When speaking about the USA or Canada, there are still some overlapping hours, and moreover, a lot of developers are willing to work at night, which is not a big issue for them.
As of 2021,there were about 99.2 thousand IT specialists only in Kyiv, the capital of Ukraine. And the overall number of specialists employed in the IT industry in 2021 was about 250 thousand people, which is approximately 24% more than the previous year.
Ukrainian IT specialists are well-educated and speak English well, so there's no problem in communication with the foreign clients. Every year, about 20 000 IT specialists graduate from universities with a major in software development, and the quality of education is superb. In addition to numerous specialized courses and training centers, there are more than hundred of universities across Ukraine that provide high-quality training to future IT specialists.
Such giant companies as Magento, Google, and Snapchat already have their R&D centers in Ukraine. Moreover, more and more big international companies continue opening their offices in Ukraine. And it means that the quality of services provided by Ukrainian IT specialists is superb.
Ukraine software engineers constantly stay on top of cutting-edge technologies, spend time on self-education and improvement, and are ready to take on challenging projects. They are gifted and self-motivated and, thus, can work on a lot of challenging projects.
Ukraine provides very affordable rates. Usually, Ukrainian developers charge between $35- $55 per hour for their work, and the quality of their services is super high. So, outsourcing to Ukraine is much cheaper than, for example, hiring developers from the USA or Western Europe. As an example, US developers can charge between $100-150 per hour, in Western Europe – $60-80 per hour. So, it's obviously much cheaper to hire software developers from Ukraine.
Ukrainian software engineers have a good combination of hard and soft skills. Not only do all the IT specialists in Ukraine speak English well, they are, on average, very communicative, always adhere to the deadlines and are reliable. In general, Ukrainian IT specialists are humble, friendly, and positive.
Ukrainian IT specialists pay great attention to self-development and constantly learn something new. Besides, they are very flexible and are proficient in several programming languages. So, as a client, you get great value for money.
During the year of 2021, the software development sector in Ukraine has grown by 24% with more international companies opening their offices in Ukraine.
Ukrainian IT specialists are proficient in several programming languages and are highly motivated. Software developers from Ukraine are fast learners who are eager to grow professionally. They are responsible, transparent and deliver high quality of services.
ASP.NET Development Outsourcing to Ukraine – Facts, and Numbers
ASP.NET isn't the most popular technology chosen by modern projects. Still, the opportunity to tailor this tool to the web, mobile, and desktop development tasks attracts business owners and makes them consider ASP.NET as an option.
ASP.NET development in Ukraine can also be a winning idea since this outsourcing destination offers a perfect match between the strong tech expertise, engineering education, reasonable cost for the mobile and web development services, and large talent pool of ASP.NET developers.
How many ASP.NET developers are there in Ukraine? According to a LinkedIn search in "People", there are 58,000 professionals in this field in Ukraine.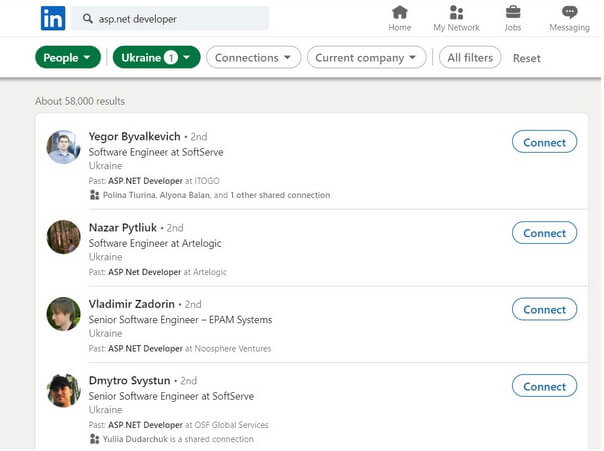 Most of the candidates have high education and real-life experience, which is confirmed in their profiles, and CVs. But let's take a more detailed look at an ASP.NET developer portrait so that you have a clear idea of whom you'd want to hire.
Your ASP.NET Developers – Who Are They?
There are several things that unite tech professionals from Ukraine. They are well educated, experienced working with European and American customers, they are mostly fluent in English, have good problem solving, critical thinking and, of course, code wiring skills. So, if we try to portrait an average ASP.NET developer from Ukraine, then, most likely, we will get the following profile:
Gender: Male
Age: 25-35
City of residence: Kyiv, Kharkiv, Dnipro, or Lviv
Education: High engineering education
Additional courses and certificates: Have at least one course/certificate issued
Experience: 5 years in average
English level: Advanced
Priorities when looking for a job: Growth and challenges, friendly team, no micromanagement, flexible schedule, above-average salary
Hobbies and interests: Self-development, sport, travel, innovations, literature.
Developers' salaries in Ukraine vs developers' salaries in other countries
How much does an ASP.NET developer make in Ukraine? And how does their salary correlate with one of their colleagues from other countries? Let's have a brief look.
Surely, a junior ASP.NET developer's salary is significantly lower regardless of the country you hire your developers in. But when hiring Junior developers, you should also keep in mind that assisting, controlling, and helping them will be the responsibility of your Team Lead, so make sure to compare all the pros and cons in advance.
So, as for the ASP.NET developer salary in Ukraine, hiring them from a financial standpoint is the most affordable option, compared to other opportunities. As for the final product quality, you can also be sure that Ukrainian developers will follow the best development practices to perfectly meet your expectations.
Salary of different levels of ASP.NET developers in Ukraine
ASP.NET developers are in great demand since this framework is still widely used for building web applications. In Ukraine, there are many .NET developers as well as. NET consultants who can give you professional advice on the use of ASP.NET framework and its peculiarities.
And, of course, if you hire ASP.NET developers in Ukraine, you would want to know how much you are expected to pay. The salary of ASP.NET developers in Ukraine depends a lot on their skills level, how experienced they are and where they are located.
On average, the NET developer salary in Ukraine is within a range of within $8K – $50K per year as compared to their counterparts in the USA who could earn between $46K – $104K. Since the demand for Ukrainian ASP.NET specialists in Ukraine is very high, the minimum monthly cost of a junior .NET developer would be around $2100. The average monthly cost for a junior developer is around $2800. And the highest amount that can be paid to junior .NET developers would be around $3400. So, in general, the budget for a junior .NET developer would be between $2100-$3400.
A developer with 2-5 years experience is considered a middle specialist. The minimum salary a Ukrainian .NET developer would expect is $3500. $4700 is considered a top salary for the developer of the middle level. And the average salary is around $4000 a month. Middle .NET developers can work on more complex projects and resolve many issues if any. The senior .NET developer in Ukraine usually has the minimum salary of $4800, and the maximum –around -$6800. The average salary for such a qualified developer is around $5600. The senior .NET developer usually works on very complex long-term projects and can resolve all the issues (if this is the case) as well as supervise junior and middle .NET developers. Regarding the place, the salaries in big Ukrainian cities such as Odessa, Kyiv, Dnipropetrovsk are usually higher than, for example, in Lviv
Ready to hire tech-savvy ASP.NET developers for your project? We have them under our roof so let's discuss this opportunity!
How to Hire an ASP.NET Developer – 3 Tactics to Choose From
Hiring ASP.NET developers in Ukraine comes with several winning opportunities we've briefly discussed. What's more, there are three strategies to hire your remote developers. Let's explore them.
Hire freelancers
For the startups that support the remote development approach and strive for cost-cutting, hiring freelance ASP.NET developers can be an option. There is a global talent pool to choose from, plus you can find developers with niche experience when searching globally. As one more benefit, you can hire several developers, mixing the programmers from Ukraine and other countries to embrace cultural diversity.
On the other hand, too many choice options can lead to the harder candidate selection and significantly delay the beginning of the development process. Also, it is better not to expect your freelancers to be fully committed to your project only. Most of them are working on several projects at once, prioritizing those that are either higher-paying or putting forward more requirements. So, you have to develop a retention strategy as well.
Build R&D centers in Ukraine
For the projects striving for cost-cutting and accessing top expertise at once, an effective strategy is to hire ASP.NET developers for your research and development center based in Ukraine. It can be a winning tactic in the long run – in case you need a tech team to ongoingly develop your projects one by one. As for the benefits of this approach, R&D centers promise effective communication, transparency, and the ability of the team to quickly adapt to the market changes and development course tweaks.
On the other hand, establishing an R&D center and hiring the development team in-house means additional costs for recruiting, onboarding, maintenance, compliance, along with taxes, salaries, and other operational expenses.
Hire a dedicated team from an ASP.NET development company
As another option worth your attention, consider hiring ASP.NET developers from a software development vendor. This is the most effective strategy when it comes to balancing the costs, time to start the development, and the opportunity to access top tech talents from Ukraine.
There are also two different ways to partner with a development team vendor. As the first option, you can extend the tech team you already have in-house or in your R&D office. This is a winning idea if there is a need for extra help but no time to source new developers and test them.
But when you want to get a ready-made team of ASP.NET developers, consider hiring them according to the dedicated development model. In this case, your remote team will be fully manageable and controllable by you, being dedicated to your project solely.

But regardless of the strategy you choose for your project, you still have to interview your candidates to ensure the perfect match. Find out what interview questions you should ask to hire an ASP.NET developer in the most effective way.
Hire ASP.NET Developers at A-Team Global
A-Team Global would be happy to become your reliable software development outsourcing partner. During the years of our cooperation with European customers, we were able to gather several collaborative teams, including but not limited to ASP.NET developers.
For now, we have 60+ programmers ready to get started with your project. When partnering with us, you are welcome to choose an engagement model that will work better for your business – be it a team extension or a fully dedicated development service.
Our practical experience also covers several domains such as retail and eCommerce, fintech, marketing, and educational technologies. We prioritize safety and security, especially when it comes to the project dealing with sensitive data or the software developed for state authorities – we have such cases in our portfolio as well. These applications are strictly protected by NDA (Non-Disclosure Agreement) and have been developed in accordance with GDPR (General Data Protection Regulation).
We promote effective communication and business processes transparency so you are welcome to get in touch with us right now and discuss the opportunities we can offer for your project!