Hire our professional developers
Ready to make the best choice for your project? Hire us for the highest-end software development services!
Contact us
Hiring decisions have never been easy. Especially, if you have to hire the whole team sourced by the third-party vendor. Still, most of the applications are now developed according to this model, and as practice shows, the right choice of software development provider is pivotal for your future project success.
Step 1 - Decide on a company's type
There are 25 million software developers in the world. The choice opportunities for your project are pretty enormous so how to find a software development team to fit it? How to hire a software development team that would be perfect for your project? The first step is to narrow down the options depending on the software development company type.
Types of software development companies: There are three types of companies you can hire a software development team in. Let's review them in more detail and choose the one that suits you best.
Local software development firms. The specifics of these companies are clear from their name. They are usually located in the same city or at least country as you. The main benefits of hiring them are the opportunity to meet the leadership and the team personally, take advantage of face-to-face communication and control your project better. Still, there is a significant drawback for the countries with high development rates per hour since in this case, hiring local software development companies can be pretty costly. This drawback is especially relevant for startups on a budget.
Nearshore software development companies. These are the companies located on the same shore as your organization. For example, if your company is located in the UK, and you outsource your software development to Poland, both of you stay on the same shore. Nearshore outsourcing can also be a winning tactic for projects which need to optimize their budget but still stay on the same page with the development team, making use of overlapping time zones.
Offshore software development companies. Offshore companies are located in fairly distant countries. Outsourcing the US-based project to be developed in India is an example of an offshore approach. Usually, this is the most cost-effective, but the riskiest tactic. Along with the opportunity to save because of the huge salary gap, you get cultural, communication, and control risks.
So, at this step, you have to take a sober look at your budget and readiness for challenges. Hire development teams locally if you can afford it, hire a nearshore company if you want to wisely balance the pros and cons of outsourcing as a strategy, or hire an offshore software development company if you have a limited budget but are ready to deal with the corresponding risks and mitigate them. You can also check on software companies hiring the best software engineers worldwide.
Deciding on the outsourcing destination is the next step on the way to hiring a software development company.
Step 2 - Decide on the Destination
There are a lot of destinations to hire custom software development companies from. However, not all of them are equally winning for your project development. When choosing the destination (onshore or offshore), take the following important factors into account:
Cultural fit. Indeed, the culture, mentality, perception specifics, and worldview of those who build software products are important. When the mentality of the developers meets one of the client and the final users - this is the best fit for your project, from both technical and business perspectives. So, choose software development contractors wisely. Sometimes, cultural diversity can bring more harm than good.
Your budget. Yes, it will be decisive on each of the stages of the development process since you are likely to strive for the best opportunity at the best cost. So, let's review the costs of hiring software development companies from the most popular outsourcing destinations.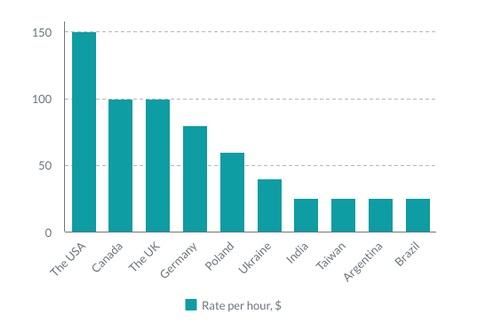 How much does it cost to hire a software developer? Below are the approximate rates per hour depending on the location:
Still, keep in mind that the development cost per hour is a relative figure. The final price of a software development project also depends on your backend development specifics, the complexity of the design (front-end development), the tech stack used, the size of the team, the type of contract, the number of integrations, the complexity of the features and many other factors. Take all these aspects in mind when you want to hire a team of developers for your project.

So, use it as a figure to get the first impression and tailor the outsourcing destination to your expected budget. As for the more accurate estimates, your chosen software development partner will do it for you later.
Step 3 - Gather Your Project Requirements
Next, proceed with gathering your project requirements. Depending on them, you will be better able to make the right decision when choosing the partnership models with your software development outsourcing vendor. Use the following brief as a template to gather your project requirements.
Initial project requirements brief
Your industry
The task (development from scratch, redevelopment/redesign, legacy system modernization)
The problem your future app will solve
Type of the app (web, mobile (iOS, Android, both), desktop or cross-platform)
Expected technologies to use (AI, IoT, blockchain, etc. )
Development methodology
(Waterfall - for simple and predictable projects; Agile/SCRUM - for flexible and risky projects)
Specific skills and talents you may need
Your budget
Your deadline
Step 4 - Decide on an Engagement Model
After you are done with gathering your initial project requirements, let's proceed with choosing the most effective engagement model. An engagement model is a collaborative framework, according to which you work with your development vendor. It establishes the set of services you get, their terms, and specifics.
Basically, there are two engagement models to choose from. Let's compare them.
Outsourcing
Outstaffing
Specifics
Outsourcing means transferring all the tasks related to creating your software to your development vendor. In this case, the vendor is responsible for gathering a team, ensuring team members can cooperate, running, managing, and controlling the project development, and paying salaries to the team. You, as a customer, in turn, are welcome to control the development process and communicate to the team and Project Manager both on-demand and according to the communication schedule.
Outstaffing means hiring team members from the vendor to strengthen the team you already have. While some companies prefer running a development process in-house, sometimes they may face a need to scale their team. In this case, hiring already validated candidates from the outstaffing vendor becomes a winning choice since you can save both money, resources and access top tech talents.
Pros
A lot of companies/destinations to choose from

Accessing top tech expertise

Running a project remotely

Flexibility

Suitable for long-term partnership

Cost optimization
Quick start

Flexibility

Suitable for long-term partnership

Cost optimization
Cons
Communication delays and occasional cases of misunderstandings

Lack of control and transparency
Sometimes, the extended team can't feel a part of an in-house one, and it may lead to a lack of commitment and productivity decrease.
Suitable for



This engagement model is best suited for companies with no in-house team, no resources and desire to gather it, and no technical expertise. In this case, the development vendor takes the responsibility for closing all these gaps and creating software according to your requirements.
This model is the best pick for the companies already running a software development process in-house but facing the urgent need to expand the team with additional hands or power it with specific talents. Usually, this is such an urgent need that there is no spare time to look for the necessary candidates on your own.
The outstaffing or team extension model works in a simpler way compared to outsourcing. As for the latter, there are also three types of contracts you should be aware of to choose the most winning option for your project.
Three types of contracts in software development outsourcing
Depending on the approach to project management and app development, you have to choose between the following types of contracts to sign with your software development outsourcing vendor.
Fixed price. This is the most intuitive option. You pay a fixed price for the creation of the solution with a clear and unchangeable set of features. Usually, the project scope is small, the roadmap is pitfall-free and that's why the software is built according to the Waterfall methodology.
Time and material. Time and material contract means paying for the resources (team members and their time) you have already used. This is something like a "pay as you go" contract. It makes the most sense for unpredictable projects when it is fairly difficult to make accurate estimates, so paying for actually completed work is more honest.
Dedicated development team. This is the most expensive type of contract suitable for large projects developed according to Agile methodology with great scaling projections. Sometimes, a team is dedicated to the project for years and grows along with it. For example, the company hired for cross-platform app development usually proceeds with mobile and web app building according to this type of contract since they are already well-versed in the solution's specifics.
This is the most intuitive option. You pay a fixed price for the creation of the solution with a clear and unchangeable set of features. Usually, the project scope is small, the roadmap is pitfall-free and that's why the software is built according to the Waterfall methodology.
Depending on your project specifics, choose the most cost-effective type of contract. What's more, a transparent development vendor will always suggest the best fit for your project based on its experience and your expectations, so don't hesitate to ask.
Feel like having some questions? We are here to support you!
Contact us
Step 5 - Shortlist the Companies
Now, let's proceed with a direct search. At this stage, you are likely to have a decision as to the vendor's location, and its rate per hour, so use these criteria to shortlist the potentially suitable companies. You can talk to several software development vendors before choosing the right one for you.Use Clutch and Good Firms to get the complete list of the development vendors. You can also check on the software company hiring and attracting a highly-skilled pool of software engineers.
Hint! Use the power of social proof. Most of the B2B platforms rate companies according to their customer's reviews, and in this case, the feedback is more likely to be authentic. So, cut off the companies with less than four stars. Although it will narrow down your choice option, it will save you from potential troubles in the future.
"How do I choose a software company from the list" you may ask? The only way is to review all of them step by step, one after another. Use the following factors as a guide.
Experience in your industry. Shortlist those companies with practical experience in your domain. In this case, when creating your software, they will be able to follow an already validated path, avoiding most risks and reusing the best practices. To find out whether the company has such experience, research their portfolio. Perfectly, it should be extensive and describe the solved challenges in detail. For example, take a look at our recent case studies to get an idea of our expertise.
Market presence. While the lifetime on the market shouldn't be a crucial factor, it is still better to choose the companies with at least 5 years of experience in software development. For your project, it means a better opportunity to validate their reputation and expect a more practical experience.
Core technologies. Pay attention to the companies with technology-specific expertise. For example, if you would like to build an IoT solution, partnering with a WordPress development company would be illogical.
For now, you are likely to have 10-15 companies on your list. Let's find the best one for you.
Step 6 - Get in Touch with the Best Fits
At the next step, get in touch with the companies you have shortlisted. Pay attention to the following factors:
Is it easy to reach out to them? Ideally, their website should smoothly guide you to the Contact us page, and the form itself shouldn't be too long.
Their response time. This factor is already crucial. As a rule, the response time to both prospective customers and existing ones should be the same and as short as possible. To put it simply, if you have to wait for the response at the initial stages, you are likely to wait even longer after your development process starts. So, at this stage cut off the companies with response delays and proceed with a more engaged one.
Overall friendliness and openness to communication. Schedule an initial call with several companies and evaluate your impressions after communication with each of them. Which one is the most comfortable to communicate with? Who has listened to you more carefully? Who has asked more meaningful questions? Who sounds engaged sincerely? Find the answers to these questions, and you are likely to find your perfect match.
Step 7 - Prepare your Request for Proposal
A request for proposal (RFP) is an extra document you can prepare to better understand each other with your development vendor and align your initial vision. Most frequently, this document is used for open tenders but it can also make sense for software development as it allows you to get back to your project requirements one more time and set your expectations towards your vendor.
Here is what you should write in your RFP.
Project background
Project goals
An engagement model
Design brief description
Features set brief description
Budget
Deadline
In response to this request, the software development vendor should send you a proposal with their suggestions, estimates, and best practices to create your project.
Step 8 - Balance the Risks
After you are done with all the essential questions regarding hiring a software development company, let's briefly get back to the possible risks and pitfalls - just to help you make sure you have done everything right. Indeed, all the risks related to software development outsourcing can be mitigated by choosing the development vendor right, so use the following checklist to validate your decision one more time.
| | |
| --- | --- |
| Risk | Solution |
| Lack of expertise and experience in your specific niche | Carefully evaluate the portfolio and look for a similar solution. In case you like the company's expertise but can't find a similar solution in their portfolio, reach out to them and ask directly since a lot of apps are usually protected by NDA. |
| Communication issues | Agree on communication rules and practices in advance. Don't hesitate to suggest the channels and highlight the ones that suit you best, even if you would like to use WhatsApp for communicating with your PM and tech team. |
| Vague budget estimates | Be very careful with this risk. Make sure you have drawn a clear line between the cost to develop an MVP and the price for the final solution. Pay attention to estimated features breakdown and always have a spare budget to cover possible development pitfalls. |
| Failed deadlines | To make sure the company is able to meet the deadlines, research the reviews from their previous customers. For most of them, this issue is as essential as it is for you. |
| Mentality gap and language barrier | Choose the destination wisely. Don't be lured by the opportunity to save a little but be locked in different time zones, and stumble upon the language barrier and mentality abyss. |
| Time zones difference | Consider hiring a nearshore development company to work in the same time zone, or at least ensure a convenient overlap of the business hours. |
| Lack of control | Agree on reporting and controlling practices in advance. Most companies welcome customers to make daily and weekly calls, receive monthly reports and take part in the discussions after the development iteration ends. |
| Data protection | Don't hesitate to ask to sign an NDA before the first consultation. Also, make sure the company has no data leaks issues - social proof will help you with it as well. Ask about other legal standards like GDPR or HIPAA (if relevant for your project). |
Step 9 - Consider a Reliable Tech Partner
Choosing the right software development company requires your time and effort. Still, you are already at the right place to make a safe choice. Hire software development team that will best suit your requirements and your expectations. A-Team Global is right here to share our tech and business expertise.
For ten years already, we have been helping our customers with growing their businesses, being their reliable partners on the way to digital transformation. Most of them stay with us for years, expanding the set of solutions they need to drive their company's growth.
During our collaboration, we have gathered more than 60 top-skilled developers from Ukraine to source them for our customers' projects, according to outsourcing or outstaffing engagement models. The companies we serve also appreciate us for our ability to mix the best features from both of the approaches and suggest the most cost-effective tactic to build their software.
Being highly proficient in such industries as retail, eCommerce, marketing, and education, we create web, mobile and cross-platform solutions using both life-proven and new programming tools and languages.
Feel like our approach to software development matches your business values? Let's discuss the ways we can collaborate! 
Contact us
Step 10 - Build Your Software
Congratulations, you are almost done! So, let the creative and technical process begin. At this stage, you have to build your software,supported by your development vendor, launch it to market, grow, promote and improve.
Conclusion
Hiring a software development company can be a challenge. In this ultimate guide, we have shared a step-by-step strategy reinforced by the best practices to do it right. Compare and contrast the opportunities carefully to make the smartest choice with your outsourcing destination, the company's type, and an engagement model, plus always keep the vendor's experience and expertise in the spotlight. We, at A-Team Global, would be happy to become your tech partner and support you with building your software.
Reach out to us for more insights and practices for your future project success! 
Contact us
you may also want to read