Ready to get started on your next project?
Top IT Service Company
A-Team Global (former IT Master Soft), is a renowned IT firm comprising a team of passionate professionals with excellent technical skills and abilities and are always committed to let your business grow.
Ukraine-based IT Master Soft was founded in 2012 and is truly a reliable IT partner to businesses and individuals looking for software products and services. Highly skilled and experienced developers start a whole new software project from scratch, add new functionality to the current project, or simply improve the code and fix bugs.
Spending 9+ years in business and 216+ projects accomplished, IT Master Soft retains 75% of loyal customers. The company has supplied its production services to 12+ countries across the globe by 60+ talented and skilled developers. The organization also has its development centers in Bulgaria and Germany, and in Ukraine.
In an interview with GoodFirms researcher, Anna Stark, Alex Kotliar, the CEO, introduced the company's co-founder, Nadia, and shared detailed information about the company. Alex recognizes his company as an A-Team Global that works in-house and provides full-cycle development services. He shared that he was a mere developer in an IT firm but found something more interesting to do than just coding. Alex's classmate, Nadia, was also a university lecturer and always wanted to understand the customer's demand in full. In this way, IT Master Soft came into existence, which is now on the verge of obtaining a new brand identity. "This is the right time to create a brand that matches our growth and true strength," says Alex.
We have the ability to hire great professionals for every technology available on the market. If your project requires web development or mobile application development, technical expertise or software testing, we will set up a team of certified developers that will deliver effective solutions,"Alex shares.
When asked about how he will differentiate his company from the competition, he stresses more on its concentration over their client's business, success, and potential. The experienced and talented developers in the company invest their valuable knowledge and experience.
Company Overview
A-Team Global (former IT Master Soft) has worked for clients from over 12 countries, and most of their clients have been working with us for 2 years. With a 75% repetitive customer rate, the company provides a high level of credibility to meet their clients' expectations fully. Alex further explains that our major working sectors are MarTech, Fintech, Fleet Management, EduTech, retail, and ecommerce.
Knowingly, A-Team Global (former IT Master Soft) has been a web development company building uniquely tailored applications to their client business for years. Today, the company develops apps and websites with excellent features, usability, scalability, and compatibility with any mobile device or web browser. The team excels in Cross-Platform App Development, MVP Development Services, and Custom Web Development Services.
A review displayed below depicts how satisfied the clients are after choosing A-Team Global (former IT Master Soft) as their business companion.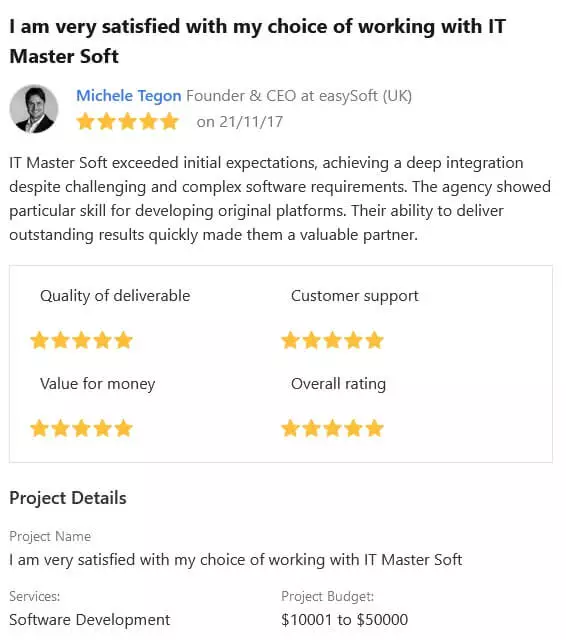 Alex is pretty sure about enhancing the customer satisfaction rate in the company. He advocates a strong multilevel interaction between the client and the team in the company. He assures that transparency, flexibility, responsiveness, commitment, ethical standards, and credibility are guiding factors for communication processes in the company. This ensures that A-Team Global (former IT Master Soft) ranks among the top IT services companies in Ukraine and other parts of the world.
While talking about the support facilities, the company provides a two-week post-release maintenance service to all of its clients. Enhancements or improvements not covered by the maintenance plan are estimated as separate projects. How A-Team Global (former IT Master Soft) prioritizes the opportunities for your business can be easily observed through another review given below.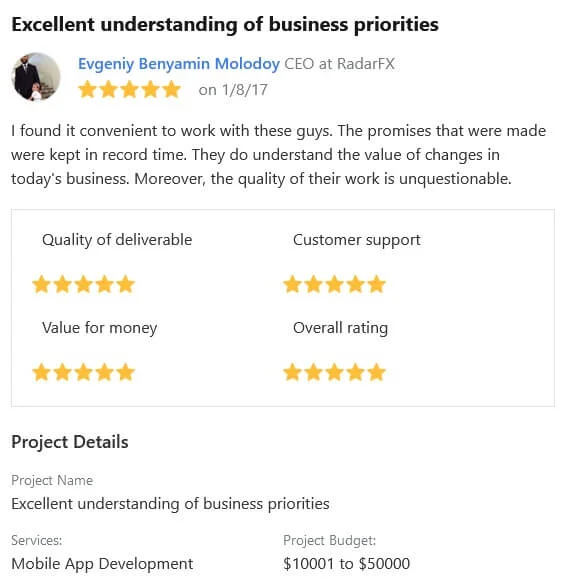 Alex agrees that his company takes on projects that meet their basic budget requirements. The company professionals carefully choose their customers and the team puts great efforts in every project so it is natural for us to filter incoming requests including filtering by budget. However, the client requirements differ based on the size of the project, the number of developers needed to work on a project, and the service ability and level of these developers.
Alex and Nadia are pretty sure that their company will grow higher in the future. Today, the projects range from $20K to $200K, and this range will constantly grow year after year. Even the current COVID-19 pandemic failed to stop them. Their confidence is their strength and therefore, they see their company growing with many new projects, new customers, and new markets in the future.
This is an extract of the interview of Alex Kotliar, the CEO of A-Team Global (former IT Master Soft), the detailed interview can be glanced at GoodFirms.
Contact us, and we will be happy to give you valuable pieces of advice needed for your business needs.
Contact us
About GoodFirms
Washington, D.C.-based GoodFirms is a maverick B2B research and reviews firm that aligns its efforts in finding web development and web design service agencies delivering unparalleled services to its clients. GoodFirms' extensive research process ranks the companies, boosts their online reputation, and helps service seekers pick the right technology partner that meets their business needs.
About the Author
Prepared by Anna Stark, a Content Writer at GoodFirms, who bridges the gap between service seekers and service providers. Anna's dominant role lingers to form every company's achievement and critical attributes into words. She strongly believes in the charm of words and equips new approaches that work, always with concepts.
you may also want to read