PHP is a cost-effective and powerful technology. That's why a lot of start-ups and business owners choose it for their web project development.
Still, the choice of the right tech stack isn't the only task you have to solve on the way to your project success. You should also hire a PHP development team that will drive your project's growth, creating software perfectly aligned with your business goals.
Advantages of the PHP Programming Language
PHP Programming Language has the following advantages:
PHP based applications can run on any browser as well as any OS
PHP Programming Language is simple, and, thus, easy to learn
It has huge library support for using different function modules
PHP Programming Language can be easily combined with other programming languages, so it's very flexible
It's free, and, thus, accessible to everyone
It's very stable with the assistance of giving ongoing support to different versions
PHP Developer Job Market in Ukraine
Where to hire PHP developers? This is an essential question to answer before proceeding with recruitment and hiring itself. If the remote software development tactic seems to be suitable for your business, consider one of the leading outsourcing destinations globally.
Yes, we are talking about Ukraine – a country with a diverse tech talent pool, strong engineering traditions, the reasonable cost to hire PHP developers and global recognition on the software development outsourcing market. When you hire php developer in Ukraine, you will surely get a highly-qualified specialist for a reasonable price.
According to a LinkedIn search, there are more than 30,000 PHP developers in Ukraine, so you can hire php programmers easily. Most of them work as a part of a PHP development team for European and American projects. A lot of the candidates are full-stack developers, which means they are skilled not only with PHP scripting but other related technologies necessary for pitfalls-free web development.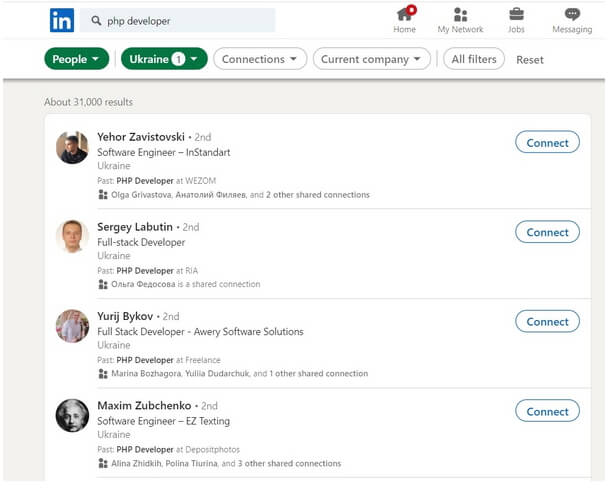 There are also freelance PHP coders, so you definitely have a lot of choice opportunities, depending on the strategy you follow for your project development. What's more, there are a lot of PHP outsourcing companies in Ukraine that will willingly help you gather the right team for your project, so you can effortlessly hire php experts.
PHP Coders – Who Are They?
But what makes many businesses from the US and Europe prefer to hire PHP developers in Ukraine? Below are some of the distinctive features of Ukrainian PHP specialists that make them a great talent choice for tech projects from any domain and of any complexity.
Hands-on experience with PHP and PHP frameworks Ukrainian PHP developers are highly skilled and proficient in terms of PHP development, so you can easily hire PHP programmer there. Their real-life experience in software development for different industries allowed them to gain a solid technical background, develop an analytical vision and suggest hassle-free ways to create a PHP project.
High education Most Ukrainian PHP developers have higher tech education. Ukraine is well-known for its high level of engineering education, and the diplomas issued by leading Ukrainian universities are also globally recognized, so when you hire PHP coder from Ukraine, you can be sure to get a proficient tech specialist.
English proficiency Sometimes offshore PHP developers are perfectly skilled with PHP, but can't boast of English fluency. Ukrainian PHP coders meet both of the requirements. What's more, when you hire a dedicated PHP developer with the help of an outsourcing company, it will also assign a Project Manager to support and encourage your communication with your team.
Business-centered mindset The business tradition in Western and Eastern Europe might be somewhat different, but Ukrainian developers are more flexible when it comes to working with international projects, so it's very convenient to hire PHP developer from Ukraine. If you hire a remote PHP developer in Ukraine, you can expect a perfect cultural fit and business match.
Life-long learners Learning non-stop is the only path to stay competitive in the field of IT. Most Ukrainian developers share this opinion and stay tuned into industry updates, best practices, and new technologies to offer their benefits during your project development. So, if you hire a php developer in Ukraine, you are sure to get a highly-skilled professional developer. Learning non-stop is the only path to stay competitive in the field of IT. Most Ukrainian developers share this opinion and stay tuned into industry updates, best practices, and new technologies to offer their benefits during your project development. So, if you hire a php developer in Ukraine, you are sure to get a highly-skilled professional developer.
Feel like these features are the ones to help your project skyrocket? Hire Ukrainian PHP developers with our help!
How Much Does a PHP Developer Cost?
Given all the benefits Ukrainian web developers have, how much does it cost to hire a remote PHP developer in this country? And what is the salary gap compared to other destinations? Let's take a quick look.
From a financial standpoint, Ukraine is the most attractive destination to outsource your project to. An average PHP developer per hourly rate is $30-40 there, but how much does it cost to hire developers in Ukraine when it comes to the years of experience and proficiency level they have? Below is the approximate wage breakdown.
So, the idea to hire a PHP programmer in Ukraine is at least two times more cost-effective compared to hiring specialists in the US or Western Europe. Still, you have to be smart when choosing a hiring strategy that will help you meet your business goals. Let's figure out the available opportunities.
Rates of PHP Developers in Ukraine
If you would like to hire PHP coders, Ukraine is a perfect destination. Ukrainian PHP developers are reliable and highly professional. The average rates of Ukrainian specialists are lower than the rates of their competitors from Western as well as Eastern Europe, yet the service quality is high. For example, in Ukraine the average hourly rate of a junior PHP developer fluctuates between $6.5 and $13.75, the middle one gets between $13.75 and $20.75, and the hourly rate of a senior developer ranges between $20.75 and $31.75.It's lower than in any other Eastern European country. That's why it's more profitable to hire a PHP programmer in Ukraine.
How Can You Hire a Ukrainian Developer?
There are three ways to hire remote PHP developers from Ukraine.
Search on freelance platforms
There are many freelance platforms to get in touch with Ukrainian PHP developers. Using such platforms, you can find, shortlist and choose candidates based on their previous experience and their hourly rate. Despite the seeming simplicity of the approach, hiring freelance PHP developers can take a lot of time and effort since in this case, you can't avoid hiring routine and its related costs.
As a life-facilitating tip, find out what questions you should ask a PHP developer during an interview but keep in mind that you should be very careful with the final choice. The clear drawback of hiring freelancers is that you can't validate the developers' skills in advance and there are almost no guarantees that they will be fully committed to your projects.
Establish your own research and development center in Ukraine
The path of research and development is ultimately right for the companies looking to improve their existing offers, optimize business processes and develop something innovative. Still, establishing an R&D center in your hometown may be costly. If you are ready to take on all the organizational issues, creating a research and development center in Ukraine can be an option because of the country's legal friendliness on this issue and the opportunity to hire Ukrainian PHP developers on individual entrepreneurship terms. However, keep in mind that in this case, you will be responsible for the whole center organization, its business operations, and the results of the research and development as well.
Partner with an outsource software development company
How to hire PHP developers if neither of the options above suits your business? Partnering with a dedicated development vendor can be a good choice. Following such a strategy, you are welcome to hire a remote, dedicated, committed, and already gathered team of PHP developers perfectly matched with the knowledge and skills necessary to create your project. Choosing a Ukrainian development vendor is an opportunity to unlock all the benefits of outsourcing to this country, saving the resources and still accessing top-notch tech expertise.
What City will be Optimal for Me?
Kyiv
Kyiv, the capital of Ukraine, with a population of around 2.8 million people, is one of the largest Ukrainian IT hubs. The large-scale IT companies have their development centers in Kyiv. More than 44% of Ukrainian developers reside in Kyiv. If you want to hire a PHP coder from Kyiv, take into account that the average salary of a PHP developer in Kyiv is between $2000-$4000.
Kharkiv
Kharkiv is considered the second IT center in Ukraine. There are more than 500 IT companies in Kharkiv. And the number of IT specialists has exceeded 45,000 people. In the two years since the pandemic, the IT industry in Kharkiv has grown by 29%. The average salary of a PHP developer in Kharkiv is between $2000-$4000.
Lviv
There are more than 30,000 IT specialists in Lviv. Since 2015, the number of IT companies in Lviv has been constantly growing, and in 6 years they have increased by 328. Today, there are about 500 IT companies operating in Lviv. The average salary of a PHP developer in Lviv is between $1800 – $3800.
Dnipro
There are around 400 IT companies operating in Dnipro and the region. These are mostly small and medium-sized companies with up to 200 people. At the same time, every third developer works in a large company. One in five companies has offices in other Ukrainian cities and one in four -abroad. The average salary of a PHP developer in Dnipro is between $1500-$3500.
Odesa
Odesa, together with Kyiv, Kharkiv, Lviv, Dnipro forms the "big five" cities with the most developed IT industry. There are about 150 IT companies operating in Odesa. There are many representatives of global IT companies providing outsourcing services in Odesa, but there are also a number of successful product companies. The average salary of a PHP developer in Odesa is between $1700-$3900.
Vinnytsia
Vinnytsia already ranks sixth in the IT area in Ukraine. The IT industry is quickly developing in the city, and more and more big IT companies have started opening offices in Vinnytsia. There are many study centers that help prepare young IT specialists. The average salary of a PHP developer in Vinnytsia is between $1200-$3000.
Zaporizhzhia
There are about 160 IT companies with offices in Zaporizhia. The majority of companies aren't very big. About six thousand IT specialists work in the city. The average salary of a PHP developer in Zaporizhia is between $1500-$3500. At A-Team Global, we are proud to have one of our offices located in Zaporizhia. With 10 years experience in the market, we've successfully completed a lot of challenging projects. If you would like to hire PHP programmers or the whole team, we will be glad to help you with this.
A-Team Global as Your Reliable PHP Development Vendor
If you are ready to hire remote PHP developers, IT Master Soft is right here to support you. For ten years already, we have been helping our European customers with making their businesses more data-driven and cost-effective by creating top-notch software solutions perfectly aligned with their business goals. Here is what we can offer to your project as well.
In-depth expertise in PHP development
PHP is one of the main technologies our developers are skilled with. Take a look at the projects we have created with its help to grab an idea of PHP versatility and the complexity of the tasks we can help you with.
Online booking platform for language courses. This solution allows users to find the most suitable language learning courses, choosing from 250 different languages and comparing the institutions to find the best match.
Telegram crypto bot. The idea behind this project is pretty clear from its name. The Telegram crypto bot we have created with the help of PHP as a part of our tech stack monitors crypto news and trends, plus allows for making instant crypto purchases and configuring Stop Loss/ Take profit features in a custom way.
Direct-to-customer eCommerce platform. With the help of this eCommerce solution, shoppers from Israel can find the best deals right from manufacturers abroad. That is, the platform eliminates the need for a third-party reseller and additional costs as well. Generally, it works like Amazon – customers can also track their orders, make payments and choose better products with the help of social proof.
Social media cross-posting solution. The opportunity to automate social media posting isn't the only feature we have developed for this application. It also allows the users to create and share discount coupons and connect to affiliate websites for better lead generation and more sales.
Email marketing platform. An email marketing platform we have worked on allows for creating email templates, customizing and personalizing them, setting sending limits, improving deliverability rate, and analyzing core performance metrics.
Ready to create something awesome? Let's do it together!
Diverse experience with European customers
Most of our customers are from Western Europe, and a lot of them have been working with us for several years already, running their development team either remotely or following a team extension model. Having turned to us as newly launched companies, a lot of them are now successful and well-known organizations in their niches. The companies we partner with are of different sizes and industries – from small businesses to authoritative bodies. With the goal of streamlining our collaboration, we have created two representative offices in Europe, namely in Germany and Bulgaria.
Transparent, safe, and effective collaboration
We encourage open communication and transparency when sourcing our developers to the companies in need of top-notch tech skills. That's why we always suggest flexible engagement models, taking into account the business specifics and goals of our customers. They are also always protected by legal agreements and NDA – the latter is also the reason why we can't share too many details we have created for governmental bodies under the strict confidentiality agreement.
Conclusion
IT Master Soft would be happy to help you with hiring skilled and knowledgeable PHP experts to support your software development and business growth. We offer a perfect match collaboration opportunity when you want to hire remote tech talents but still keep track of your project development. As one more proof of our experience and customer-centered approach, the companies we have served are always glad to recommend us to their partners, so you are welcome to contact us for help as well!