Get your IoT-based fleet management solution
Our team solves the challenges of any complexity by creating IoT fleet management solutions that are perfectly tailored to each business's needs.
Contact us
What is a fleet management system?
All the procedures that must be followed to maintain a fleet operating effectively, timely, and within a certain budget are referred to as fleet management. These are the procedures that fleet managers employ in order to monitor fleet operations and make the best choices regarding proper asset management, dispatch and routing, as well as the purchase and disposal of trucks and other vehicles.
Fleet management systems integrate technology like GPS, geofencing, AI, machine learning, and predictive analytics in order to support business or state organizations and increase their efficiency. Fraud reduction, digital transformation, tax compliance and reporting, route optimization, and tracking are a few typical fleet management software features that are used to support and expand business as well as state organizations.
IoT and Fleet Management
The Internet of Things provides the entire range of advantages of a linked infrastructure and is one of the most rapidly expanding technical phenomena. Many businesses already take advantage of what IoT technology has to offer, and it has definitely great potential for the future, particularly in the fleet management industry.
For example, in 2021, there were already 35 billion connected objects, with the number predicted to rise to 75 billion by 2025. In the transportation industry, where IoT technology successfully applies to fleet management, this trend is getting more and more popular.
With the help of the Internet of Things, the coordination of numerous vehicles, which was formerly accomplished through laborious logistics, is becoming more automated. Businesses can simply manage and keep an eye on their assets, make decisions regarding the performance and health of their fleet, and keep track of the status of repairs.
A-Team Global provides custom IoT-based fleet management solution development that will help you significantly increase your business profitability by optimizing the fleet routes and reducing maintenance and fuel costs.
Fleet Management Key Features
Now let's look at must-have fleet management features that should be included in every vehicle monitoring system.
Live tracking
It goes without saying that it is essential to be aware of the current location of your vehicles on a map. That's why GPS vehicle monitoring is a crucial component of any system for managing vehicles. It can assist managers with several operational issues, as GPS tracking system helps monitor multiple vehicles at once
With live tracking and monitoring, you are able to pinpoint the taken routes, stopping locations, and lengths of stops. Knowing this information, you could make the changes to cut costs, not to mention all the accidents you could avoid by having this knowledge at your disposal.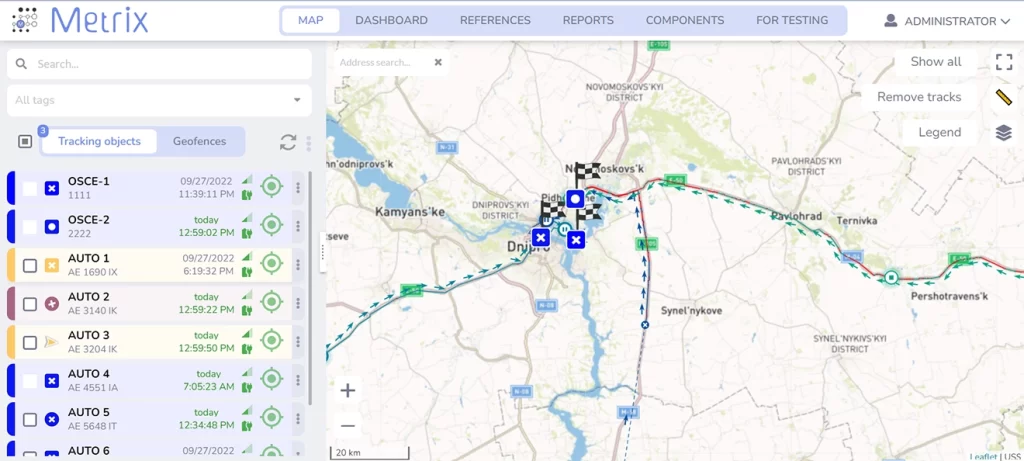 Fuel monitoring
One of the important features of a fleet management system is fuel consumption monitoring and reporting. It's very helpful in terms of regulating and optimizing fuel expenses for trucks and other vehicles. Moreover, it also helps spot risky driving habits, and fuel theft. These reports can be easily produced by vehicle management systems and include information on every operation involving the purchase and use of fuel. Thus, you can easily control how the fuel is used so that you can avoid any possibility of fuel misuse.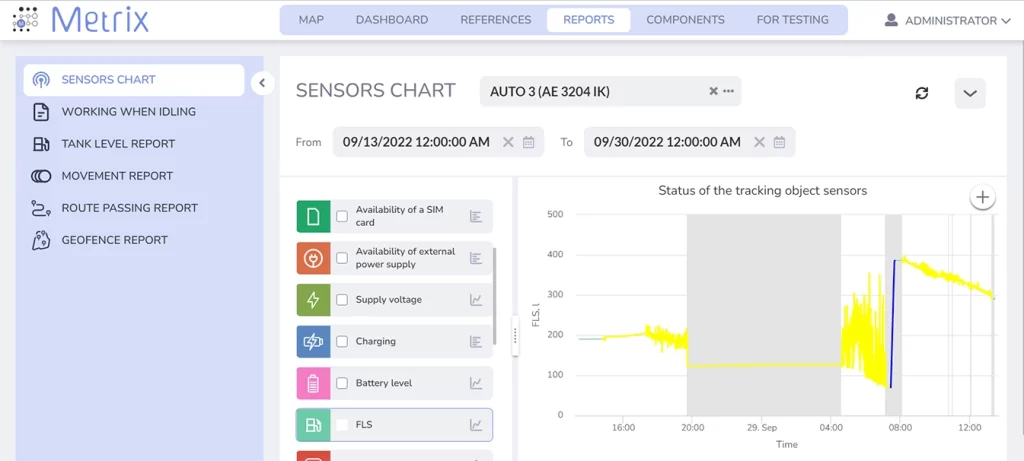 Emergency alerts
Alerts are crucial for keeping the fleet 'healthy'. It's critical for the business to be aware of emergencies with any of its fleet vehicles so that you can act as quickly as possible in a critical situation. Also, a reliable fleet management system is helpful in handling minor difficulties quickly and preventing them from developing into more serious issues. This is especially crucial when it comes to delivering some fragile goods and short turnaround times.
Route monitoring and planning
Are your vehicles traveling the most efficient way? With such fleet management software features as 'route planning and monitoring', you can watch exactly what routes are being taken and then see if it's the best route or there are better ways of reaching the destination. In such a way, you can create a perfectly optimized route for all the fleet and then forecast better future routes. It will help not only in terms of saving time, but also fuel, -  and your clients will surely appreciate shorter wait times and improved service.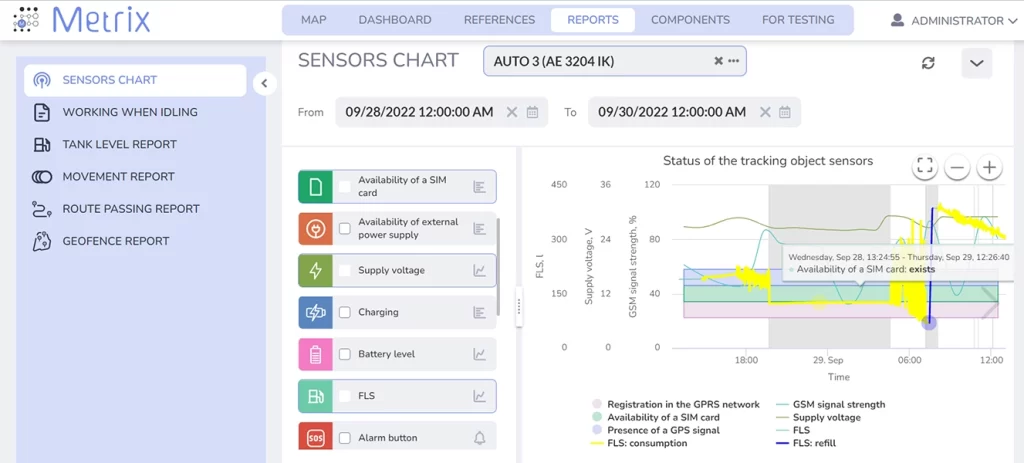 Notifications for driver behavior
This is one of the fleet management key features, as it helps you make sure that all the drives drive safely. You can use driver behavior reports to monitor how they are driving. Basically, the system tracks driver activity and behavior and produces metrics such as scorecards. Driver scorecards are particularly helpful in identifying potentially dangerous driving habits, such as abrupt braking, fast acceleration, etc. By using such reports, you can effectively address problematic behavior and act accordingly.
Trip logging
Having a trip log function is essential for your fleet business because it automatically tracks and gathers a variety of data points for each journey by using electronic vehicle trackers. A trip logging function gathers data in real-time, - so by using it, you can eliminate using logbooks and spreadsheets. Thus, you can lower personnel costs and give fleet managers more time to work on more important things like expanding your business and attracting new customers.
Mileage calculation
Mileage calculation helps with tax preparation, deduction computations, and compliance tasks. It computes mileage for both your fleet as a whole and for individual vehicles. So, the fleet mileage computation functionality is a great way for your company to maximize performance, achieve high tax deductions, and save money on fuel. The use of such sophisticated automatic calculation enables your fleet managers and accountants to obtain tax period mileage reports that contain all the necessary data, which is very helpful for your company's overall activity.
Automated vehicle maintenance
It is a very important fleet management software feature, as it helps prevent any serious vehicle damage in the future. It is essential for every company to have modern vehicle fleet management software with automatic vehicle maintenance alerting and reporting systems. The best fleet management software enables automatic and just-in-time vehicle maintenance by alerting and notifying your fleet managers whenever maintenance and repairs are required. And when the maintenance and repairs are done in time, you can save costs by avoiding some serious urgent repairs. Besides, your customer service will be much better with such a feature, as you are unlikely to have any delivery delays when your vehicle fleet is in good shape.
Electronic records
One of the must-have fleet management features is electronic document management. With its help, drivers have the ability to exchange client/customer signatures, receipts, delivery proofs, and other essential documents by using digital documentation. And in addition to adding them to the system database, managers and fleet administrators can centralize, update, and distribute significant documents.
With electronic records, in addition to safely storing and managing documents, it is possible to easily refer to, edit, and remove any document as necessary.
Analytics and reporting
Analytics and reporting is an important fleet management software feature that will help you gather all the crucial data. Moreover, it can  also analyze and interpret that data for you. You can get reports on alerts, driver speed, engine run time,etc. All  this information can significantly enhance your business performance and help make all the processes better.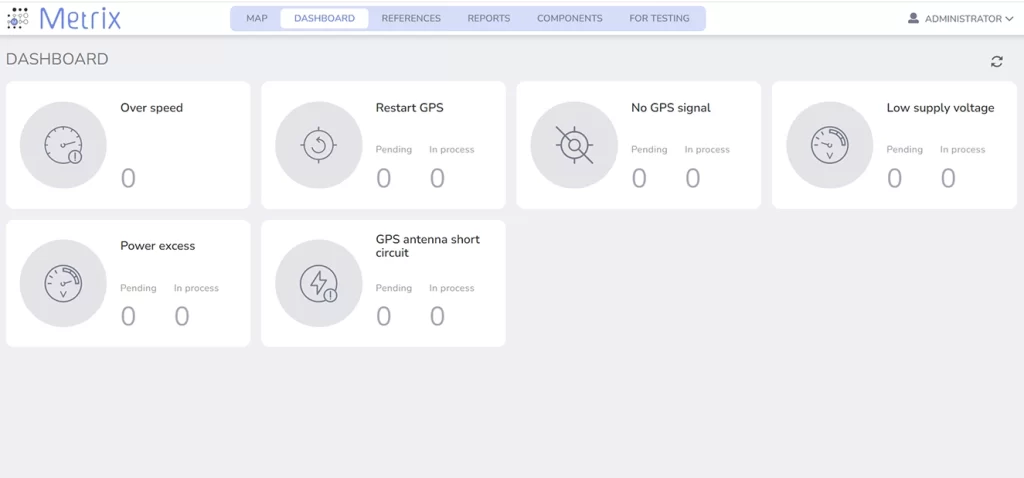 Which Features Do You Need the Most?
While we've covered the most common features of a fleet management system, some of them might be of great value to your specific business, while others might be less important.
So, how do you evaluate which features are the most essential to your niche?
First of all, take into account that it is crucial to have distinct solutions for customers and other outside providers such as suppliers and insurance firms. This will help you support business offerings in the best way possible. When you have separate solutions, you can be sure that users, for example, can access the features of shared modules, support data sharing, and manage shared operations. At the same time, user access must be restricted to some features to improve security.
So, it's better to develop separately client portal, supplier portal, and drivers portal with granted access to the necessary features for each portal.
Once you have a clear understanding about the must-have features, take the time, first of all, to carefully analyze your needs. You can ask yourself questions like:
What does my business need the most at this time?
What features of a fleet management system will improve my business operation?
What are my current business issues that require immediate attention?
What is my budget at the moment and how can I use it in the best possible way?
After going through these questions, you can start to choose the most important features for your company that would meet all your company's objectives. Write down the list of all the functions that your fleet management software must have. It will assist developers in estimating your project.
The next step is to choose your vendor. Before choosing your cooperation partner, you can go through the following basic questions:
What is the tool's scalability? Are there sufficient resources to support operations in the upcoming months?
How user-friendly is the interface?
How often do you update your website?
What instruction and assistance (if any) do you provide?
A-Team Global is a reliable IT partner with a 10-year proven record of providing excellent service. We've developed custom-based IoT solutions and helped many businesses achieve their goals. We can help you decide which features of a fleet management system are helpful for your particular needs.
Conclusion
IoT technology has an impact on a lot of areas, including fleet management. It can help bring fleet management to a new level, so if you are in the industry, this is definitely something to consider. We've covered the most essential key management features that are helpful and necessary in boosting your business, -but the sky's the limit, so if you are serious about your business and want to learn more about IoT and fleet management software development, feel free to speak to us today, and we'll be happy to answer all your questions.
Ready to discuss your idea? Get in touch with us.
Contact now
you may also want to read