Food & Drinks Marketplace
to enhance delivery experience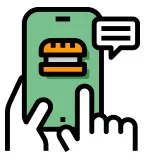 Briefly about the project:
Industry: Martech, hospitality, restaurant, e-commerce
Client's location: USA
Expertise: Customer web app, courier web app, management portal web, marketplace for food & drinks orders
Project Type: Web app, mobile
Technologies: Laravel, React, MySQL, Sass, Figma, Amazon AWS
Initial Request:
Our client based in the USA, approached us with a vision to create a comprehensive platform that connects restaurants, customers, and couriers. They needed a robust web application solution to facilitate seamless ordering, delivery tracking, and management of orders and menus.
We carefully studied the requirements, did thorough competitors' research, and offered a suite of web applications: Client app, Food Courier app, and Manager app. The client liked the idea, and so we successfully started working on the project.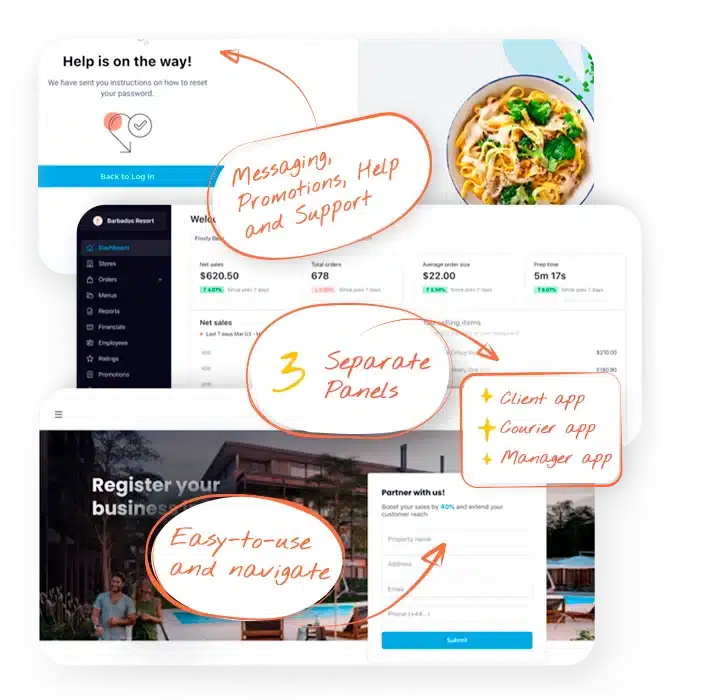 To bring our client's vision to life, we assembled a skilled team consisting of 2 backend developers, 2 frontend developers, 1 QA, 2 team leads, and a Project Manager. Project Manager ensured smooth work during the period of project development.
During the project development phase, we implemented a wide array of features to ensure a comprehensive and user-friendly experience across the platform.
The following technologies were used for the project: Laravel, React, MySQL, Sass, Figma, Amazon AWS, as well as Github and Jira for tasks.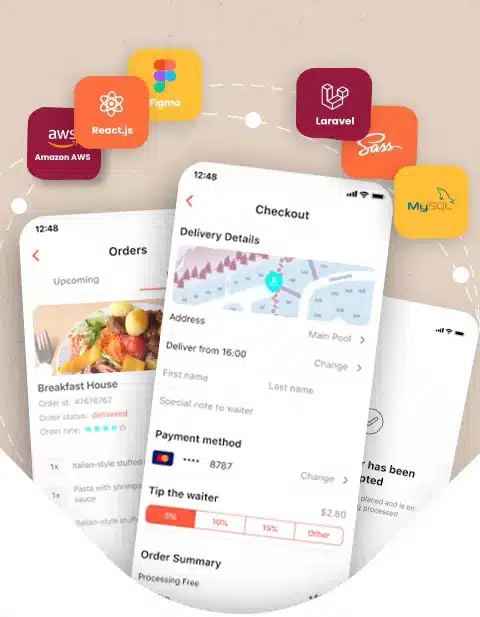 Our development services have successfully delivered a robust and feature-rich marketplace platform for our client:
While developing the Customer web app, we designed the following essential features:
Comprehensive list of restaurants and stores
Menu items with various search and filter options
Order tracking
Flexible payment options
Geolocation integration,interactive maps
In-seat ordering,for beach and pool areas
For the Courier web app, the following features were included:
Seamless order management
Delivery status updates
Navigation assistance
Earnings and payout tracking
Chattingwith customers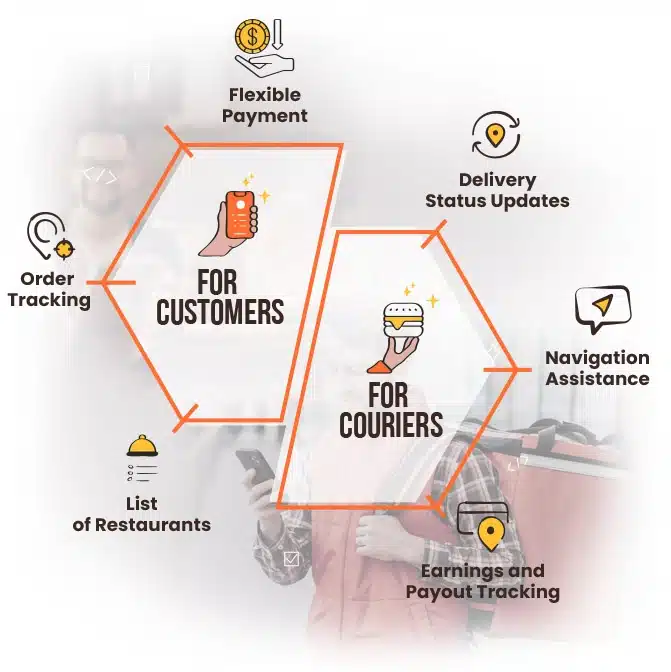 To empower efficient management and administration, we created following features for the management app:
Comprehensive dashboards with business data analytics and charts
Access to ratings and reviews
Order management, order history, refund orders
Menu creation and updates
Employee management
Promotion management
Pool and beach maps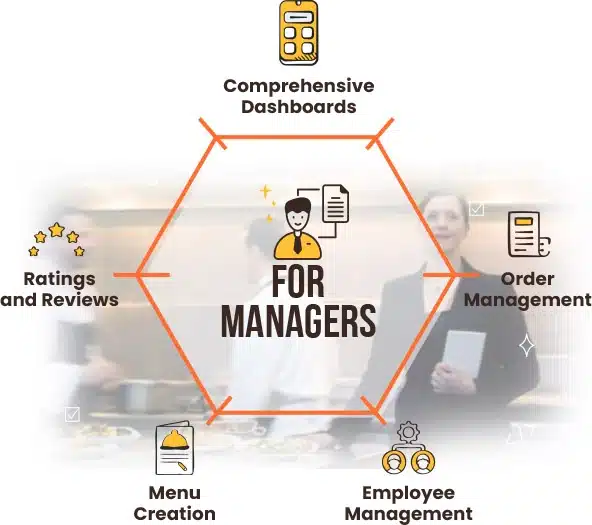 Business Value:
All the features made the website easy-to-use and navigate – for clients, couriers, and managers. The website continues attracting more clients and restaurant businesses.
As a result of our work, the company got the following benefits
Seamless and intuitive user experience for customers, leading to increased customer satisfaction and engagement
Streamlined courier operations and delivery processes, resulting in improved delivery accuracy and customer service
Comprehensive management tools, allowing make data-driven decisions, responding to customer feedback, and optimizing operations
Features that enable our client to engage and retain customers, driving customer loyalty and revenue growth
The results obtained not only fulfill our client's initial request but also bring substantial business value, setting them up for growth, operational efficiency, and customer satisfaction in the competitive food and drinks online ordering market.
Client Feedback
I was impressed by the quality and the speed of work of all the team members. All my comments were taken into account, and I had only positive impressions of working with A-Team Global!