Ready to discuss your idea? Get in touch with us.
Why is Ukraine a Top Nearshore Destination for European Companies?
Is Ukraine good for software engineering? Numerous customers from Europe and the US think that software development in Ukraine is a perfect outsourcing destination, and here is why.
The large tech talent pool
There are many highly skilled programmers to choose from in Ukraine. But how many software developers are there in Ukraine, to be exact? According to different sources and estimates, there are 200,000 tech specialists in this county, and their number is projected to grow up to 23% by 2024. And it means that software outsourcing in Ukraine is going to rocket.
Strong engineering traditions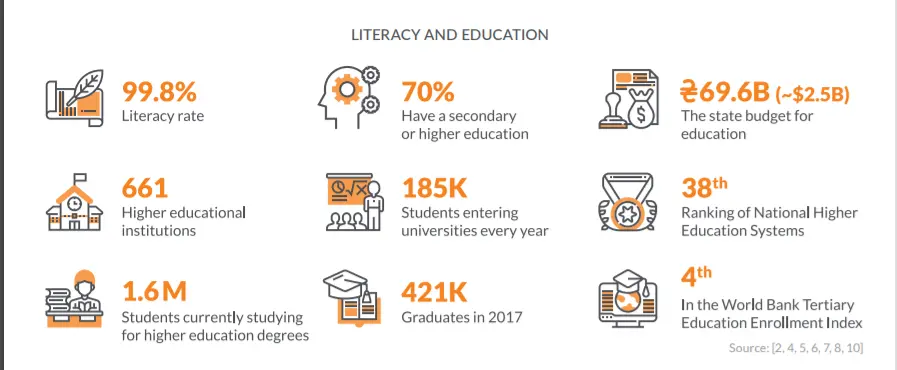 The high quality of Ukrainian high education is globally recognized , which is why this country holds so many tech specialists. Ukraine has an especially strong engineering tradition and this is the echo of the Soviet Union, where engineering and medical professions were prestigious. Most Ukrainian programmers also have higher education empowered by practical experience with European and American companies.
Perfect price-quality match
Most customers choose Ukraine for nearshore software development because of the opportunity to perfectly balance the reasonable cost for the highest product quality, access top tech expertise, and make use of the experience the developers already have. In contrast to the popular stereotype, software development outsourcing to Ukraine isn't cheap but it is still cheaper than creating a solution in-house and still reasonably priced, given the quality the customers get as the final result.
Let's quickly compare the developers' salaries in several countries to get an idea of the costs to hire a development team with the help of a nearshore programming firm:
An average developer salary in the UK - $5,000 per month
An average developer salary in Ukraine - $3,000 per month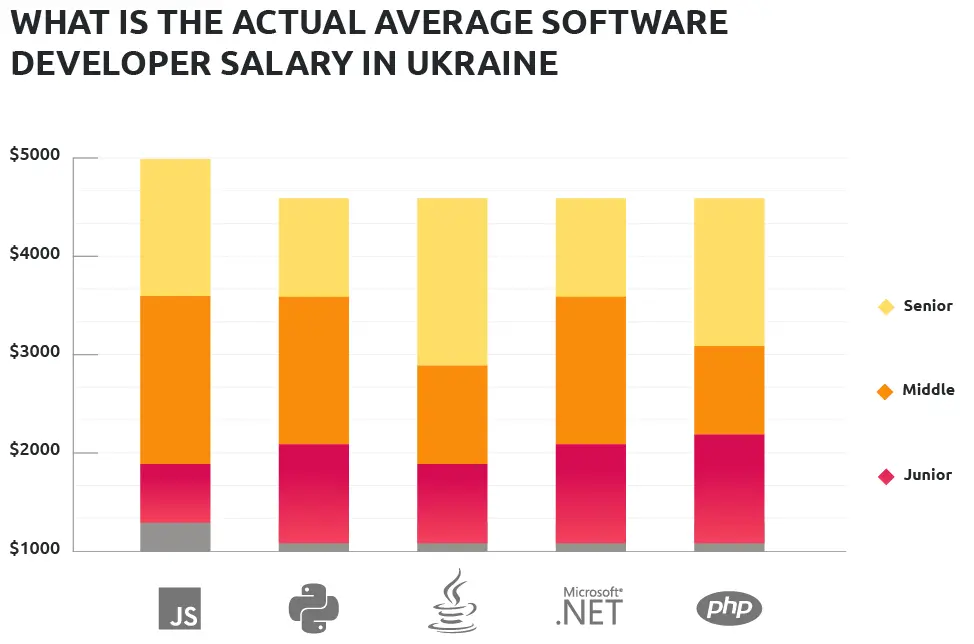 Convenient time zones overlap
Managing a nearshore software development team hired in Ukraine is also less challenging compared to the team from a more distant country. Being located in the very heart of Europe, a Ukrainian time zone overlaps with the time zones of European countries in a very convenient way - there is a 3 hours difference maximum. From the project management standpoint, it means that most of the time, your schedule and the schedule of your dedicated team will overlap, and that's why there will be shorter response time and fewer communication delays.
Software development outsourcing nearshore is an even better idea if you bet on the long-term relationship and meet your team personally. The physical proximity between the counties and well-developed transport infrastructure allows a no-trouble trip to Ukraine.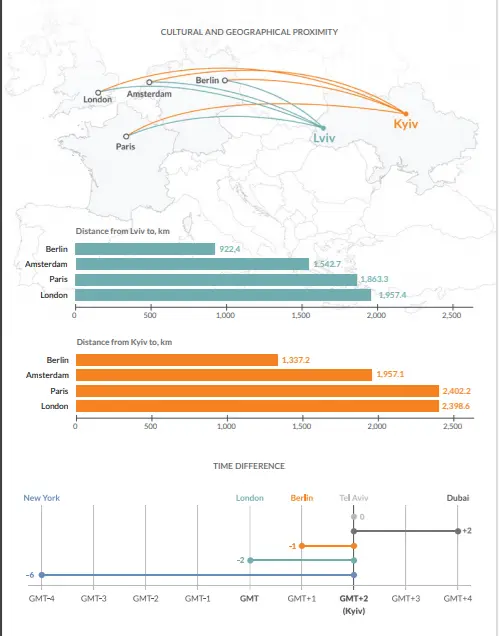 No mentality gap and language barrier
Choosing a nearshore software development firm in Eastern Europe means the opportunity to hire people with almost the same mentality and culture. So, there are fewer risks that the final solution will not meet the expectations of the customers from the "human" standpoint. Having no mentality difference also means having the same or almost the same approaches to doing business, sharing the same business ethics values, and achieving mutual understanding faster. So, software development in Eastern Europe is a noteworthy choice when it comes to finding a perfect balance between price and well-established cooperation.
Government-supported innovations development
The cost-effectiveness enforced by the reasons we have listed above isn't the only "why" to choose a nearshore software development company from Ukraine. Recently, Ukraine got started with digital transformation and innovation development on the governmental level.
For example, Ukraine has recently become the first country in the world where digital passports have the same legal force as their paper counterparts. Also, there are great chances that very soon, cryptocurrency will be regulated legally, opening more opportunities for crypto projects development and Bitcoin owners.
Working with your software development team from a legal standpoint is also easy and transparent since most of the programmers from Ukraine are registered as individual entrepreneurs, paying taxes according to a simplified scheme.
Conclusion
There are many different challenges to solve during your project development. But if you have chosen your nearshore outsourcing destination and the development vendor right, there is a great reason to feel significantly less worried, enjoying the process of your software creation. If you are looking for software development in Eastern Europe, Ukraine is a good option to consider, especially if you plan to run your project development remotely, and A-Team Global is right here to help you with it.
you may also want to read